The VFW Teacher of the Year Award contest recognizes exceptional teachers for their outstanding commitment to teaching Americanism and patriotism to their students. I was honored to be recognized as the Veterans of Foreign Wars VFW Teacher of theYear. I would like to share with you the nomination letter for this award.
To: VFW Awards Committee 10/10/2019
I am honored to nominate Matt Bundy. I have had the privilege of working with Mr. Bundy since 2013. He is a leader and quietly goes above and beyond, helping students in and outside of the classroom.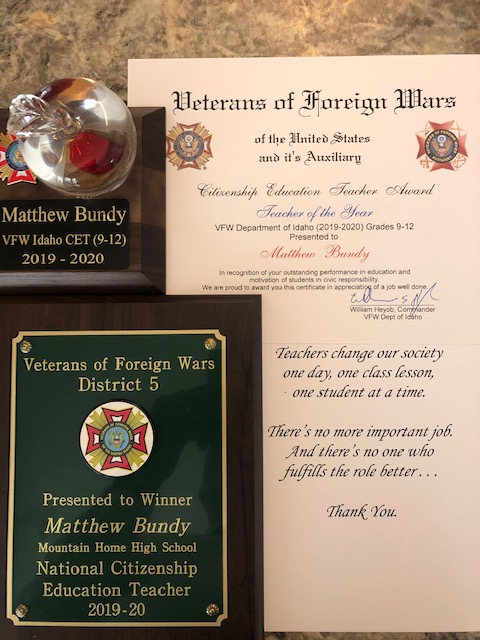 Mr. Bundy's signature event is telling his 9/11 story. He was scheduled to fly that day and was called out of an aircrew briefing to stand up the Wing Battle Staff. The wing received deployment orders and the next 85 days were spent deploying the Wing. He then deployed to Oman to fly combat sorties into Afghanistan. His story gives students the opportunity to experience the events through the eyes of a veteran and an educator. Students today were not born on 9/11 and it's important for them to have a personal connection to this event. His students are encouraged to speak with their families and local veterans about their 9/11 stories. This helps students to continue to understand the importance of those events.
Classroom events have included a visit from Governor Little, congressional candidate forums, State Senate and Representative forums, and forums for Mayor and Council. His class visits with local officials from City Hall and County offices to give citizen input. As the American Legion baseball coach, he invited legion members to games to help players and veterans share the common bond of love for baseball and country.
He sponsors the page program with the Idaho State Legislature. 13 students have participated the last three years. He sponsored a MHHS graduate to work as an intern for a member of the United States House of Representatives. House member is a veteran B-1 aviator. He is the school liaison for American Legion Boys/Girls State and has been a teacher sponsor for a student exchange to Germany with over 50 students from Germany and Idaho participating.
He has spoken at local Veterans Day and Wreaths Across America events at local cemetery. Mr. Bundy serves the community as an elected official on the Mountain Home City Council and as a commissioner on the Mountain Home Urban Renewal Agency.
Mr. Bundy is innovative in his classroom and his passion for education and love of our country is truly inspiring.
Respectfully Submitted,
Principal – MHHS