Hello Friends,
Below are some recent activities and highlights taking place in the Idaho Capitol. We hope you enjoy the information. For more details, you can log onto legislature.idaho.gov where you will find bills, committee recordings, and live stream videos of my House floor sessions. We look forward to your involvement.
Sincerely,
Representative Matthew Bundy
It was a great honor to serve as the House Chaplain for Tuesday's floor session. I shared a short devotional and prayer with my colleagues in the House before we gaveled in to do the work of the People.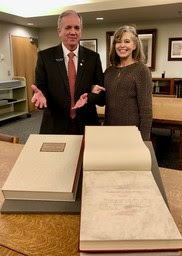 The 2022 legislative session has been exciting and new beginnings bring new challenges and opportunities. I serve on the Joint Finance and Appropriations Committee and that position has allowed me to be a major part of building Idaho's budget. We built a balanced, fiscally responsible budget in the last session and I will work to do the same this session.
This past week, I have been working on budgets and I am working on the Idaho Historical Society budget. In doing so, I was able to visit the State Historical Archives and view the original Idaho Constitution from 1890. Idaho statehood was a great event, and I had the opportunity to view the original Preamble to the Idaho Constitution and see the names of the people who signed the original document. The words of the Idaho Preamble are inspiring.
"We, the people of the State of Idaho, grateful to Almighty God for our freedom, to secure its blessings and promote our common welfare do establish this Constitution."
Senate Bill Protects Elderly Homeowners from Rising Property Tax Rates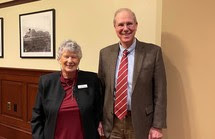 On Friday the Senate voted to pass Senate Bill 1241 that will protect elderly Idaho residents with fixed or limited incomes from losing their homes due to rising property values. The Senate Local Government and Taxation Committee had unanimously approved the bill and sent it to the Senate floor on Tuesday with a DO PASS recommendation. The bill, sponsored and carried by Senator Regina Bayer (R-Meridian), increases the maximum home value for a homeowner to qualify for the state's circuit breaker program from 125% to 200%. That will allow more low-income homeowners to qualify for the property tax reduction, intended to protect older, disabled or widowed Idaho residents with fixed or limited incomes from losing their homes due to rapidly increasing property values. The bill has widespread support. Two county assessors testified in favor of the bill, as did Garden City Mayor John Evans and Nampa Mayor Debbie Kling. All four shared with lawmakers that making the change would allow many older homeowners with limited incomes in their counties to remain in their homes.
Senate State Affairs Affirms Idahoans' Gun Rights During Emergencies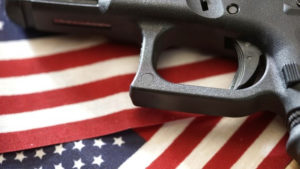 On Wednesday, legislation was introduced by the Senate State Affairs Committee to strengthen protections for concealed weapons carriers, sellers and gun makers by prohibiting the closing of gun-related business during an emergency through altering the state's disaster preparedness act. "We felt there was an opportunity to strengthen the existing protections regarding firearms," said Republican Sen. Todd Lakey, R-Nampa. The bill also upholds Idahoan's rights to purchase ammunition, components and accessories during an emergency and prevents concealed weapon laws from being circumvented during declared disasters.
Legislature's Employee Compensation Committee Works to Combat Pressures on Recruitment and Retention for State Workers
On Tuesday, the Legislature's Change in Employee Compensation Committee voted 6-4 on a motion to implement 3% across-the-board, fully funded raises for state employees, along with merit-based raises of up to $1.25 per hour. Senator Jim Patrick kicked off the session, "This is quite a responsibility this committee has, to treat our state employees right and be competitive with other opportunities," he added that "It's our legal obligation by Idaho Code."
The committee's recommendation heads next to the Joint Finance and Appropriations Committee, which will consider it for inclusion in state agency budget bills. Idaho head of Human Resources, Lori Wolff, shared the challenges Idaho faces in recruiting and retaining the state's largest single workforce in a time of significant increases in wages, improvements in working conditions, and shifts in demographics and employee expectations.
Bill Boosting Idaho Teachers' Take-Home Pay Heads to Governor Little's Desk for Signature
On Thursday, the Senate passed
House Bill 443
, 32-3. The bill would establish a fund to bring school district employees' health care coverage standards in line with other state employees. There has been a $4,100 gap between what is spent each year on state employees' healthcare coverage versus what is spent on teachers' healthcare coverage. This bill will help close that gap. The bill passed the House 55-14 on January 24. Senator Jim Woodward (R-Sagle) carried the bill on the Senate floor and was joined by fellow Republican Senators Steve Thayn (R-Emmett), Lori Den Hartog (R-Meridian), Robert Blair (R-Lewiston) and Julie Van Orden (R-Pingree) in advocating for passage of the bill.
Senator Thayn said, "I think this will do more to increase teacher take-home pay than some of the other efforts in the last several years." Sen. Lori Den Hartog said, "This is a historic opportunity that we have, and something that many legislators have been working on for a very long time…I think we'll see an enormous benefit for our teachers." The bill passed with bipartisan support and heads to Governor Little's desk for his signature.
JFAC Tackles Idaho Fish and Game Budget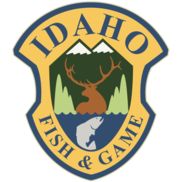 The Department of Fish & Game was up first on Wednesday morning as the Joint Finance-Appropriations Committee continued budget hearings. The Department of Fish and Game's budget comes from funds primarily from license and tag sales and from federal funds, which make up 45.6% of the department's budget. Governor Brad Little's budget proposal for Fish and Game shows a 2.5% increase in total funds over the next year. The most significant boost is $4.9 million for maintenance projects across Idaho, including updates to wildlife management areas and maintenance for hatcheries across the state.
The Idaho Fish and Game Department recently moved into its new headquarters. Director Ed Schriever said the project was completed on time and under budget, stating, "It is the first time in nearly three decades where we have the entire headquarters staff operating under one roof. The efficiency is remarkable, having all of your people in one central location instead of spread out."
Boise State University Releases 7th Annual Public Policy Survey Results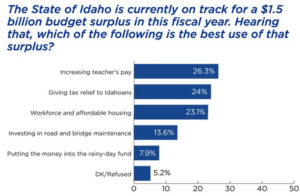 Boise State University's School of Public Service released the seventh annual
Idaho Public Policy Survey
giving lawmakers a pulse of the public opinion. Matthew May, Survey Research Director from the School of Public Service shared the results. Overall Idahoans (46%) believe the state is heading in the right direction. Respondents favor property tax (37.7%) and income tax (37.4%) relief over others forms such as sales tax relief (19.6%). House Bill 436 offers $600 million in income tax relief. The Idaho House approved HB 436 Tuesday sending it over to the Senate.
May shared that the survey helps give lawmakers, "additional data points to integrate into their own evaluation of their priorities and take the actions they think is most prudent for Idahoans."
HB 436 Income tax rebate; reduces independent and corporate income tax rate. House passed 57-13; Passed Senate 27-7-1. Headed to the Governor's desk for his signature.
HB 441 This bill offers absentee ballot assistance for those in nursing care facilities by designating three authorized sources of voter assistance. Referred to House State Affairs.
HB 443 This proposed legislation will create a dedicated fund to bring school district employees' healthcare coverage up to the same standard as that of state employees. The bill passed the House and Senate and now heads to the Governor for his signature.
HB 450 This proposed legislation will provide employers with unemployment insurance tax rate stability and consistency by extending the 2021 unemployment insurance base tax rate over a period of two years. This will result in a tax savings of $64 million for Idaho businesses over the next two years. House passed 69-0. Referred to Senate Commerce & Human Resources.
SB 1226 This legislation declares that Idaho students can be designated as self-directed learners, if they meet the criteria laid out in the bill.
SB 1239 This bill would require the legislative session to end on or before the last Friday in March each year, unless two-thirds of each house votes to go longer. A similar bill was introduced last year, but died in the house. Introduced, printed and referred to Senate State Affairs.
SB 1241 This bill changes Idaho Code by increasing the maximum value of a home that qualifies for the property tax reduction program (aka Circuit Breaker) to assist more low-income applicants to remain in their homes. Reported out of Senate Local Government & Taxation with a do-pass recommendation. On Senate Second Reading Calendar.
SB 1242 / SB 1255 This bill creates The Empowering Parents Grant Program which will provide funding to parents to help meet their child's educational needs and to address any learning loss with grants of $1,000 per student or a maximum of $3,000 per family for public and non-public students. Introduced and referred for printing. Introduced, printed and referred to Senate Education.
SB 1262 This legislation enhances the protections for firearms, ammunition, and components during a declared disaster emergency. It establishes that those involved in firearm-related commerce and business are essential businesses and services. It provides that the procedures for concealed weapon licenses under Title 18, Chapter 33 cannot be circumvented and that firearms used in otherwise lawful conduct may not be seized pursuant to a disaster emergency declaration. Introduced, referred to Senate Judiciary & Rules.